REKONSTRUKSI MASKULINITAS: MENGUAK PERAN LAKI-LAKI DALAM PERJUANGAN KESETARAAN GENDER
Abstract
Gender inequality is a phenomenon that is still sticking to the present. To overcome the various programs have been implemented for the sake of equality. But it is still fixed in women, while men who also had a big hand in the creation of these gaps are rarely involved. How important is the role of men in gender equality and how to realize them? This question will be discussed in this paper.
Keywords
gender, roles, patriarchy, masculinity
References
Adji, Muhamad. 2009. Laporan Penelitian Buku. Fakultas Sastra Universtias Padjajaran. Diunduh tanggal 5 Desember 2015 dari http://pustaka.unpad.ac.id/wp-content/uploads/2011/02/ prempuan_dalam_kuasa_patriarki.pdf.
Ali, K. H. 2000. Menggagas Fikih Sosial. Bandung: Mizan.
Alimi, M.Y. 2004. Dekonstruksi Seksualitas Poskolonial: Dari Wacana Bangsa Hingga Wacana Agama. Jakarta: LKIS.
Aripurnami, Sita. 2013. Transformasi Gerakan dan Menguatnya Kepemimpinan Perempuan. Afimasi Vol.02 Januari. Jakarta: Woman Research Institut.
Darwin, Muhadjir dan Tukiran (ed). 2001. Menggugat Budaya Patriarki. Yogyakarta: PPK UGM.
Demartoto, Argyo. 2012. Tubuh Perempuan Dalam Konstruksi Teoritik Postmodernisme. Sosiologi: Dilema Vol.30 No.2. Surakarta: Jurusan Sosiologi, FISIP, Universitas Sebelas Maret.
_____¬_ 2010. Konsep Maskulinitas Dari Jaman Ke Jaman Dan Citranya dalam Media. Diunduh tanggal 1 Desember 2015 dari http://argyo.staff.uns.ac.id/files/2010/08/ maskulinitas-ind.pdf.
Departemen Agama RI. 2001. Pelatihan Calon Pelatih (TOT) Analisis Jender. Jakarta: Departemen Agama RI.
Din. 2010. Lelaki Perlu Mengubah Citra Dirinya. Kompas.com (http://female.kompas.com/read/2010/03/19/18511953/lelaki.perlu.mengubah.citra.dirinya) diakses tanggal 4 Desember 2015.
Emawati. 2010. Gender dan Islam. Yinyang Vol.5 Jan-Jun. Purwokerto: Pusat Studi Gender STAIN Purwokerto.
Puspitawati, Herien. 2013. Konsep, Teori, dan Analisis Gender. Diunduh tanggal 1 Desember 2015 dari http:// ikk.fema.ipb.ac.id/ v2/ images/karyailmiah/gender.pdf.
Sadli, Saparinah. 2010 Berbeda tetapi Setara: Pemikiran tentang Kajian Perempuan. Jakarta: Kompas.
Setiadi, E.M, & Usman Kolip. 2011. Pengantar Sosiologi: Pemahaman Fakta dan Gejala Permasalahan Sosial: Teori Aplikasi dan Pemecahannya. Jakarta: Kencana.
Sobary, Muhamad. 1998. Diskursus Islam Sosial: Memahami Zaman Mencari Solusi. Bandung: Zaman.
Sumbullah. 2006. Agama dan Keadilan Gender. EgalitaVol 1, No 1. Malang: PSG UIN Malang.
Valentina dan Putra. 2008. Posisi Perempuan Etnis Minangkabau dalam Dunia Patriarki di Sumatera Barat dalam Perspektif Agama, Keluarga dan Budaya. Demokrasi Vol. 7 No.1.Padang: Jurusan Ilmu Sosial Politik UNP.
Woman Research Institut. 2006. Perempuan, Demokratisasi, dan Politik Lokal di Indonesia. (http://wri.or.id/homepage-id/172-current-project-id/perempuan-politik/partisipasi Perempuan/ 609-perempuan-demokratisasi-dan-politik-lokal-di-indonesia) diakses tanggal 2 Desember 2015.
www.bbc.com. 2015. Perempuan 'Kurang Terwakili' dalam Bidang Ilmu Pengetahuan (http://www.bbc.com/indonesia/majalah/ 2015/03/150306_perempuan_ilmu_eksakta) diakses tanggal 2 Desember 2015.
Zamroni, Mohamad. 2013. Perempuan dalam Kajian Komunikasi Politik dan Gender.Dakwah Vol. XIV No.1. Yogyakarta: Fakultas Dakwah dan Komunikasi UIN Sunan Kalijaga.
Zuhrah, Fatimah. 2012. Konsep Kesetaraan Gender dalam Perspektif Islam. Diunduh tanggal 3 Desember 2015 Dari http://e.dokumen.kemenag.go.id/filles/5s2wugjf1347939303.pdf.
DOI:
http://dx.doi.org/10.15548/jk.v5i2.110
Refbacks
There are currently no refbacks.
Copyright © 2014 - Center for Gender and Child Studies (PSGA) - All rights reserved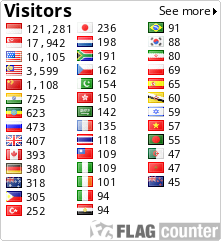 Kafa'ah: Journal of Gender Studies is licensed under a Creative Commons Attribution-ShareAlike 4.0 International License.